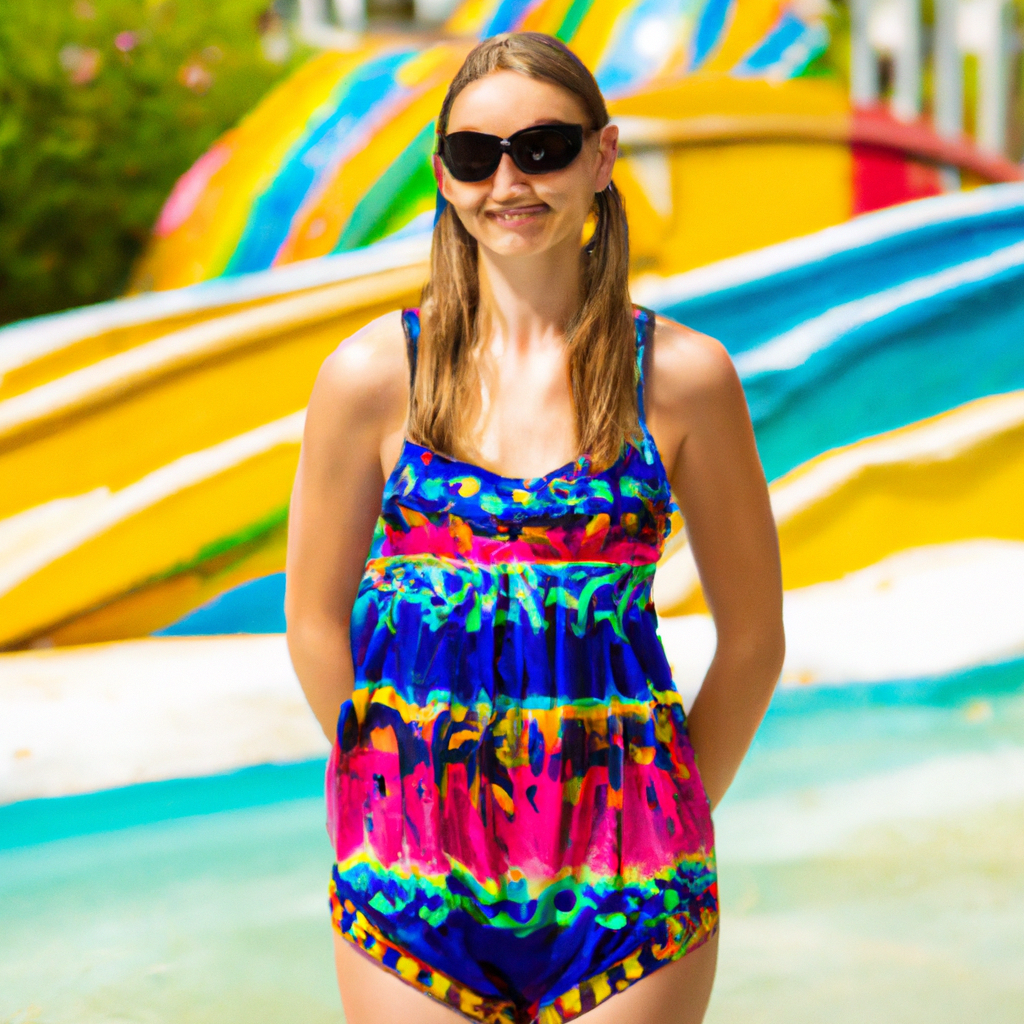 When heading to a waterpark, it's important to pick the perfect outfit. Here's what to wear:
Swimsuit: Opt for a snug and comfy swimsuit. It should stay in place, no matter if you're splashing around or zooming down slides. For more coverage, try a one-piece. Or, for sunbathing, go for a bikini.
Cover-Up: A breathable cover-up is a must-have for getting to and from the park. Try a beach dress, kaftan, or sarong for a lightweight feel.
Water Shoes/Flip Flops: Keep feet safe from hot concrete and slippery surfaces with sturdy water shoes or flip flops. Make sure they have good grip to avoid slipping.
Sun Protection: Don't forget the sunscreen, sun hat, and sunglasses! A rashguard is also great for avoiding sunburn.
The right clothing will make your waterpark experience comfortable – and fun – for all.
Clothing Options
Choosing the right clothes for a waterpark day is essential. Comfort is key! Plus, you need to dress in a way that suits all activities. There's a range of styles and fabrics to pick from. They are ideal for a fun day out and can handle different weather conditions.
Let's check out the best options for a waterpark day!
Swimwear
When picking swimwear for a water park, it's important to consider your comfort, confidence, and the park's dress code. Here are some options:
One-Piece Swimsuit: A classic style that offers coverage and support. Ideal for activities like water slides and wave pools.
Tankini: A two-piece suit with a longer top that gives more coverage for the belly area. Perfect for those wanting coverage without sacrificing convenience.
Bikini: A two-piece swimsuit great for tanning and sunbathing. Not recommended for rapid movements or upside-down positions.
Boardshorts: Perfect for those who want more coverage or feel uncomfortable in traditional swimsuits. Comes in many lengths and styles.
Rashguard: If you're spending lots of time in the water or sun, a rashguard is essential. It offers full coverage, protection from the sun, and dries fast.
Pro tip: Opt for quick-drying, breathable materials. Bring a cover-up or t-shirt to wear out of the water.
Cover-ups
When it comes to waterpark attire, cover-ups are an absolute must! Here are some fashionable options to consider:
Sundresses: Lightweight and airy, sundresses are the perfect pick for slipping on and off with ease.
Rompers: All the convenience of sundresses with the added bonus of shorts underneath!
Sarongs: A timeless classic, sarongs can be tied multiple ways for various looks and coverage.
Rash Guards: Practical and cozy, rash guards protect skin from the sun and provide extra coverage for water activities.
Oversized T-Shirts: An easy and comfy cover-up that can double as a casual outfit after the water park.
With these stylish and sensible cover-up options, you can enjoy your day feeling both confident and comfortable!
Rashguards
Rashguards are perfect for the beach! They provide sun, sand and surf protection, plus comfort and style. Here are some tips for getting the most out of your rashguard:
Pick the right fit – tight or loose? Get one that's comfy and suits your body.
Check for UV protection – many rashguards come with it, great for sunbathing!
Style it up – lots of patterns and designs to choose from. Get one that reflects your personality.
Accessorize – add sunglasses, flip-flops and hats.
Pro tip – don't forget to rinse your rashguard in cold water after wearing it in salt or chlorinated water. This will make it last longer.
Accessories
Heading to a waterpark? Think accessories! Hats, sunglasses, and sandals can provide extra protection from the sun. Plus, they can make a waterpark outfit more comfortable. Here are some tips for picking the perfect accessories for your waterpark day!
Sun Protection
Heading to a water park? Pack the right accessories for sun protection to make the most of your experience! Must-haves:
Sunscreen: SPF 30 or higher. Apply generously 15-30 mins before sun exposure.
Sunglasses: Get a sturdy, polarized pair to protect your eyes and reduce glare.
Hat: Broad-brimmed to protect your face, neck, and shoulders from UV rays.
Cover-ups: Shirt or beach dress for extra protection and comfort.
Water shoes: Keep your feet safe from hot ground surfaces and sharp objects.
Pack these accessories and have fun without worry about sunburn or damage! Pro-tip: Reapply sunscreen every two hours or after swimming/sweating.
Footwear
When it comes to water parks, your footwear matters. Pick shoes that are comfy, water-resistant and slip-resistant. Here are some choices:
Water shoes: Perfect for water activities. They offer traction, dry quickly and provide cushioning.
Sandals: Breathable, easy to put on and with non-slip soles. Adjustable straps make them secure.
Athletic shoes: For running, jumping and climbing. Look for shoes with good traction, supportive soles and ankle protection.
Don't wear flip-flops, high heels or shoes that aren't water-resistant – they increase the risk of slipping or getting injured.
Waterproof Bags
A waterproof bag is a must-have for the waterpark. Here's why:
Protection from Water & Moisture Damage. Waterproof bags protect your stuff from water, moisture & sand damage. Get one that fits phones, cameras, wallets & clothing.
Convenience. Take your stuff wherever you go: swimming, surfing & relaxing at the beach.
Durability. Waterproof bags are made of high-quality & durable materials.
Style. Choose colors & designs to match your style.
Don't forget this essential accessory for your water park outfit!
Choosing the Right Materials
Choosing the right clothing for a waterpark is essential. Opt for fabrics which are fast-drying, comfortable and strong. Quick-drying synthetic fabrics and breathable cotton are perfect for the summer. Here are some more tips to consider when deciding what to wear:
Quick-Dry Materials
Choosing what to wear to a waterpark? It's key to pick quick-dry fabric that won't bog you down. Here are some ideas:
Polyester – Light, breathable, fast-drying and resistant to shrinking and wrinkles.
Nylon – Durable, moisture-wicking and fast-drying. Plus, also resistant to tears and abrasions.
Lycra/Spandex – Offer great stretch and flexibility, making them perfect for swimwear. Also lightweight and quick-drying.
Pro tip – Avoid cotton clothing or swimsuits. They absorb water, and take ages to dry. Leaving you feeling wet and heavy all day.
Breathable Fabrics
Choosing the right materials for your waterpark outfit is essential. Breathable fabrics are the way to go! Here are a few options:
Cotton: Lightweight, breathable, absorbent and durable. Plus, easy to care for!
Linen: Natural fabric that is breathable, lightweight and eco-friendly. Moisture is absorbed quickly, drying fast – perfect for water-based activities.
Rayon: Lightweight, breathable and moisture-wicking. Dries fast and keeps you cool.
Nylon and Polyester blends: Lightweight, quick-drying and moisture-wicking. Designed to withstand chlorine and saltwater exposure.
When selecting clothes for the waterpark, remember to go for breathable fabrics.
Pro-tip: Avoid leather or faux leather as they trap heat and humidity, making it hard to wear them for long periods.
Sun Protection Fabrics
Sun protection fabrics are great for outdoor activities, like waterparks. Knowing which ones to choose helps you stay cool, comfy, and safe from UV rays. Here are the best:
Nylon: Popular for swimwear and sportswear. Dries quickly and provides excellent sun protection.
Polyester: Durable and lightweight. Blocks UV rays and dries quickly.
Lycra/Spandex: Stretchy fabrics offer great sun protection. Often used in swimsuits and activewear.
UPF-rated fabrics: Specifically designed for sun protection. Rated by Ultraviolet Protection Factor (UPF). Higher UPF = better protection.
When going to a waterpark, wear clothing made from these materials or labeled sun-protective.
Pro tip: Wear a wide-brimmed hat and apply sunscreen to all exposed skin for extra protection.
Dressing for Safety
Want to know what to wear to a waterpark? It's tricky! Stay cool on a hot summer day, but also stay safe. Here's the best type of clothing and some tips for you. Have fun without sacrificing safety!
Waterpark Dress Code
It's important to dress correctly at a waterpark for a safe and fun day. Consider these clothing items when you plan your outfit:
Swimwear: Pick a swimsuit that fits well and provides good coverage. No bikinis, thongs, or baggy shorts.
Rashguard: Wear a rashguard to shield your skin from the sun and decrease the chance of rashes and scratches. Look for a quick-dry, breathable fabric.
Water shoes: Wear shoes or sandals with good grip and a firm fit to prevent slips on wet surfaces. No flip-flops without a back strap.
Hats & Sunglasses: Protect your face, eyes, and head from the sun with a wide-brimmed hat and UV-blocking sunglasses.
Cover-ups: Bring a comfy cover-up or shirt to wear outside the water and when walking around the park.
Check the park's regulations before going so you don't have any issues.
Pro Tip: Put on sunscreen with SPF 30 everywhere before you go. This will keep you from getting sunburns and skin damage.
Avoiding Loose Clothing
When at a waterpark, it's key to be safe. Loose clothing can snag on attractions like slides and wave pools, leading to accidents. Here are some tips to follow:
Wear a swimsuit that fits, with no loose straps or strings.
Rash guards and swim shirts are best. Don't wear loose t-shirts.
No jewelry or accessories that could get caught.
Tie up long hair, a swim cap is a good idea.
Choose water shoes or sandals that fit well and have traction.
By following these tips, you can have a fun and safe day at the waterpark!
Choosing Non-Slip Footwear
Choosing non-slip shoes is essential for safety. Especially when you go to a water park! To help you choose, here are some tips:
Look for rubber or neoprene soles that grip wet surfaces.
Make sure the shoes fit without being too tight or too loose.
Avoid flip flops or shoes with no backs.
Choose shoes with closed toes for protection.
Pick bright-colored shoes for easy spotting if misplaced.
Remember, the right shoes make a huge difference for a safe and fun visit to the water park!
Frequently Asked Questions
1. What should I wear to a waterpark?
It's best to wear a swimsuit or swim trunks to a waterpark. You can also wear a cover-up or shorts and a t-shirt over your swimsuit for added comfort.
2. Are there any clothing items that are not allowed at a waterpark?
Avoid wearing denim shorts, jeans, or any clothing with metal buttons or zippers as they can become uncomfortable and heavy when wet. Also, avoid wearing any clothing with offensive or inappropriate graphics.
3. Should I wear water shoes or flip flops to a waterpark?
Water shoes or flip flops are a good idea as they will protect your feet from hot concrete and prevent slipping. Just be sure they are securely fastened to your feet to avoid losing them on water slides.
4. What kind of sunscreen should I wear to a waterpark?
Use a waterproof and sweat-resistant sunscreen with an SPF of at least 30 to protect your skin from the sun's harmful rays. Reapply frequently throughout the day.
5. Is it necessary to bring a towel to a waterpark?
Yes, it's a good idea to bring a towel to dry off after water rides and to sit on when lounging in the sun. Some waterparks may offer towels for rent or purchase.
6. Do I need to bring a change of clothes to a waterpark?
It's not necessary to bring a change of clothes, but if you plan on staying for a long time, you may want to bring a dry set of clothes to change into before leaving the waterpark.